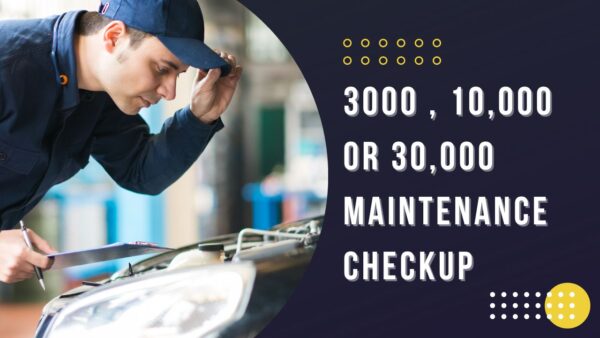 There is the 3,000 mile, the 10,000 mile, the 30,000-mile maintenance check to name a few. So, the question is "How often do we need to check our vehicle to make sure that everything's running properly?"
It's not just a simple answer, it's a complicated answer. It depends on your vehicle; it depends on your driving habits and whether your vehicle runs on conventional motor oil or if it has synthetic oil in it. Synthetic oil has a tendency to last longer than conventional oil for a number of reasons but if you have a synthetic oil vehicle then we would recommend every 5000 miles. That's what I do on my personal vehicles, that's what we do on all our company vehicles.
If you're running on conventional oil, I would go no less than 3000 to 4000 miles. good maintenance will save you a ton of money and you'll run out of payments before you run out of car so the bottom line is bring your vehicle into The Auto Shop, and have one of our ASE certified technicians check it out bumper to bumper. Now you will know what you need to do, you'll know what is coming up in the future. Whether it's your 30,000-mile checkup or your 100,000-mile checkup, you can plan what you need so there are no surprises, and that way your vehicle will last longer. Just by doing the regular maintenance that your car manufacturer requires to keep it in tip-top shape!
It is very common to get two, three, or four hundred thousand miles out of a well-maintained vehicle. In the old days if you kept up with the regular maintenance you could get three or four hundred thousand miles easily. However, if you maintain your vehicle regularly, absolutely anybody can get that kind of mileage out of a car or truck.
Business Hours of Operation
Monday           7:30 am – 5:30 pm
Tuesday           7:30 am – 5:30 pm
Wednesday     7:30 am – 5:30 pm
Thursday         7:30 am – 5:30 pm
Friday               7:30 am – 5:30 pm
Saturday           Closed
Sunday              Closed
Whether you own a car or a truck, it is important to keep it in good condition to ensure safety and reliability.
We are dedicated to providing quality service at competitive prices so you can get back on the road as soon as possible.
We will provide you with the best solutions for your car repair needs.